News
As yet another year draws to a close, I'd like to say a heartfelt thanks to all you industrious little elves around the globe. It's been another busy year, with updates a-plenty, and close to 7,000 games in the database.
On behalf of my co-administrators (Alex, Alastair, Dave, Aran and Hannes) and myself - a very merry Christmas and happy New Year to all you young and old adventurers out there.
P.S. If you're at a loss what to do in the holidays, feel free to join our devious adventure quiz which is now up to round 12 (and I'm hopelessly lost!)
Contributors: Garry, ahope1, Alex, Darkiss, tekket, Gunness
We've opened two new sections of the forum - one is purely for fun and contains devious quizzes and other means of showing off your adventure prowess. Join in right here.
The other is serious business indeed - if your emulator is acting up or you don't know how to get Glulx games up and running, this is the place to ask our best and brightest for some tech support.
Oh, and for the first time in aeons, the submissions queue is completely empty. Yikes. I'll be awfully happy for now and just ever so slightly concerned if this doesn't change within a few weeks.
Contributors: Akkroid, Dorothy, Garry, Alex, Darkiss, Alastair, Gunness, iamaran
Halfway through the recently released Ridley Scott film The Martian (which isn't half bad, mind you), our intrepid, stuck-on-Mars hero uncovers a laptop and is delighted to inform us that both Zork and Leather Goddesses of Phobos are installed on it.

Well, I thought we'd return the favour and give you a list of Mars themed adventure games, of which there are at least
ten in our database
. Happy gaming!
Contributors: Garry, m1337sxm-casa, C64.COM, Alastair, iamaran, Gunness, therealdavetaylor
At the moment I'm reading Robinson Crusoe for my 6 y.o. son and, issues of modern political correctness aside (our leading man doesn't have any qualms about slavery or being non-stop condescending with poor Friday), it remains a terrific yarn. And it's well suited for adventure games.

While going through the latest batch of new material, I was adding
Escape From Barnaby's Isle
, yet another examble of the genre. Currently we have some
56 games
in our database featuring some poor bloke being marooned on a remove island infested with wild animals, savage natives and usually a humongous load of gold, which someone thought it wise to bury on the remotest possible location (note to self: if ever low on cash, get stuck on an island).
Personal favourites include
Atalan
,
Mindshadow
and
Swiss Family Robinson
. Happy gaming!
Contributors: Garry, Sylvester, Mr Creosote, Alastair, Darkiss, Alex, Dorothy, terri, m1337sxm-casa, Geoff, jgerrie, ahope1, NomadColossus, Gunness, therealdavetaylor
There's no use going on summer holiday, 'cause you're well aware of the fact that users will just *swamp* you with updates while your back is turned. Thanks, everybody!
A particular mention goes to
Garry
, who's been hard at work updating the games from
ANALOG
magazine. These include Infocom luminary Brian Moriarty's submarine thriller
Crash Dive!
.
Behind the scenes we're working on some new additions to the forum to spice things up a bit.
Finally, thanks to Wade Clarke a.k.a. blurgle for submitting info on all his games. That's the kind of unique content that really makes our site special.
Contributors: Nicholas, blurgle, Garry, Alastair, Gunness, therealdavetaylor, auraes, Alex, Mr Creosote, Richard Bos, devwebcl, Dorothy

For starters, we've done a brief interview with Tony Lee Morall, who wrote two historical adventure games before turning to film making and becoming a novelist. I think you'll find it interesting.
Head over here
to read it.
Let your mind wander! It may be time to rewrite the history books. At least the ones dealing with adventure games (ie. that's the important history books) After some digging and research, ahope1 aka. Anthony has helped uncover what might be the earliest adventure game yet! The Wander system, created by Peter Langston, was used to write Castle as early as 1974, at least two years before Colossal Cave Adventure. Excellent news indeed. The game is available for play, so feel free to dip your toes in adventure gaming at its earliest.
Contributors: ahope1, Gunness, Alex, devwebcl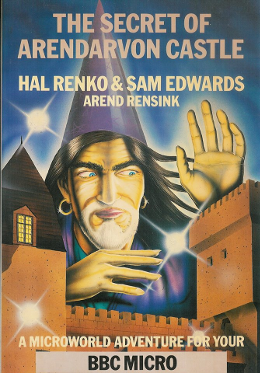 As some of you may know back in the eighties several books with type-in text adventures (and other computer games) were published by the duo Hal Renko and Sam Edwards for a huge range of different platforms. It might be less well-known that these names were actually pseudonyms for Dutchmen Kasper Boon (who also used the pseudonym
Albert Sickler
) and Alex Pelsmaeker. Their publications include games like
I.T. - The Adventure of the Century
and a book explaining how to write your own adventure games including three example games.
However, their most interesting publications concerning text adventures are a series of books published in 1985. The first part of each book consisted of a huge amount of background information with some vital clues on how to solve the game.
Originally three titles were planned:
1. The Secret of Arendarvon Castle (story by Arend Rensink)
2. The Antagonists (story by Hermie Hermans)
3. The Seventh Generation (story by Hans Riesebos).
Unfortunately, recent contact with Alex Pelsmaeker confirmed that the third title was never published - due to a case of writer's block the deadline wasn't met.
Until recently only the Dutch versions of these games (and for The Secret of Arendarvon Castle also the German version) were available online. A few years ago one of the authors, Arend Rensink, published the English BBC version of the book The Secret of Arendarvon Castle online
A few weeks ago, thanks to users on the BBC Stairway to Hell Forum who volunteered to enter the code (Thanks, Aran, for making a topic about this game!), a playable version finally became available online. Until now a full solution to this game has never been published so anyone who wants to try to solve this game, this is your chance. The English version of The Antagonists is currently not available online, but we are happy to tell that we finally managed to obtain a copy of the book containing the English BBC version. Any volunteers to enter the program code are welcome to contact us.
Contributors: Alex, Gunness, therealdavetaylor, Alastair, Keetie, GusBrasil, Sylvester, ChickenMan, johncl, nimusi, danowar, devwebcl, Quantum
I haven't had much time for updating lately, and just see what happens when you're absent - the games keep flowing in. Particularly the German ones (thanks, Alex!). I noticed Brief im Dunkeln ("Letter in the Dark"), in which your dad has locked you up in the cellar just because your girlfriend has written you. If there ever was a game that offered a worthwhile challenge, this would be it.
Our German game count now stands at a very decent 489, so 500 seems within reach!
Contributors: Alex, Gunness, ahope1
Where to start with this update? The number of new games is almost overwhelming, but there are other goodies in store including a new review. This brings the number of reviews up to fifteen, please check them out if you haven't already done so.
Contributors: Alex, therealdavetaylor, Gunness, ChickenMan, iamaran
I always appreciate games that pop up in places where you didn't expect them to. Case in point: Someone went and wrote an
adventure game
for the Casio CFX9850 calculator. Truth be told I don't know if it's any good, but kudos to whoever got creative. Things have really progressed since Kraftwerk wrote that tune back in 1981! Dave found it while browsing through TOSEC, and I'm sure other interesting titles will show up when we dig deeper.
In further news, ahope1 has updated his files for the Beeb game, Xanadu Adventure, which looks like a real challenge for anyone looking for it.
A special thanks this time around to THayes for submitting links to his YouTube walkthroughs of various classic Sierra titles. They're not in the list below, but they'll pop up on the Quest etc. games pages. Happy gaming!
Contributors: Gunness, dave, iamaran, Alex, THayes, ahope1, Porkbelly