News
News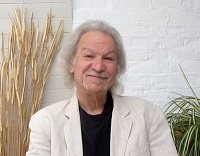 I hope that everybody has made it safely through the World Cup - and congratulations to our French friends for the thrilling finals!
Around these parts it's been unusually hot for weeks on end, so perhaps some light reading might be preferable to straining your noodle over puzzles. Shaun McClure, bonafide Spectrum artist and author of two books on Spectrum gaming, is working on a new book on Speccy text adventures. And he's been a really nice bloke and allowed us to reproduce some of the interviews for said book. So here for your reading please are interviews with Charles Cecil, Scott Adams and Mel Croucher. The latter might not have a huge roster of adventure games, but he's had a fascinating career all the same. Thanks to Shaun for allowing us to use his interviews. Let's see if there might be more happening on that front.
Contributors: Sylvester, iamaran, Strident, Gunness
The original release was coded in BASIC. In 1982, Greg reworked it into machine code as Enchanted Island Plus.
Updated Games
Latest Comments
[more]