News
News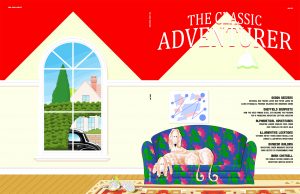 I don't know why it has slipped my mind until today, but four issues of Mark James Hardisty's excellent
The Classic Adventurer
are now available. Each issue contains a plethora of interviews with a veritable who's-who of adventure history - ranging from the Level 9 brothers over Fergus McNeill to Anita Sinclair of Mag Scrolls. Yes, I'm officially jealous! Unfortunately no further issues will be made, but if the magazine has somehow flown under your radar, now is as good a time as any to pick it up. Available in print or as a free pdf. Happy reading!
Chris Ainsley is putting the finishing touches to Adventuron 1.0. This excellent system is fully browser based and should make game creation a (relative) breeze. Anyway, that's what I've been told - I haven't dabbled in game writing since the days of GAC! Most recently, he's presented a version of Cloak of Darkness, and as you know, no decent adventure creation system should be without one.
Finally... yes, Halloween is over (for this year, anyway), but if you want to relive the joys of recent horrors, you might want to give Unhallowed a spin - runs on both Spectrums and in browsers. I'm glad to see that so many recent titles don't require special software. Makes life so much easier!
Contributors: iamaran, Strident, Garry, rpettigrew, Dorothy, auraes, terri, Phoebe Fuentes, Alex, farique, Sudders, Alastair, Gunness, dave
Plot
You have found the magic plug that belongs at the bottom of the sea, and you decide to replace it at all costs before the water drains away. With your scuba gear you dive into the ocean and begin your adventure...
Notes
Originally published as a type-in listing in the book
Creating a Database: Undersea Adventure.
Converted to the Amstrad Notebook by Timothy Surtell. Converted to The Quill by
Arjun Nair
.
Updated Games
Latest Comments
[more]