News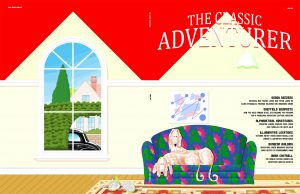 I don't know why it has slipped my mind until today, but four issues of Mark James Hardisty's excellent
The Classic Adventurer
are now available. Each issue contains a plethora of interviews with a veritable who's-who of adventure history - ranging from the Level 9 brothers over Fergus McNeill to Anita Sinclair of Mag Scrolls. Yes, I'm officially jealous! Unfortunately no further issues will be made, but if the magazine has somehow flown under your radar, now is as good a time as any to pick it up. Available in print or as a free pdf. Happy reading!
Chris Ainsley is putting the finishing touches to Adventuron 1.0. This excellent system is fully browser based and should make game creation a (relative) breeze. Anyway, that's what I've been told - I haven't dabbled in game writing since the days of GAC! Most recently, he's presented a version of Cloak of Darkness, and as you know, no decent adventure creation system should be without one.
Finally... yes, Halloween is over (for this year, anyway), but if you want to relive the joys of recent horrors, you might want to give Unhallowed a spin - runs on both Spectrums and in browsers. I'm glad to see that so many recent titles don't require special software. Makes life so much easier!
Contributors: iamaran, Strident, Garry, rpettigrew, Dorothy, auraes, terri, Phoebe Fuentes, Alex, farique, Sudders, Alastair, Gunness, dave
Finally everything is in working order again. What started as a simple server migration (with a few technical hiccups) grew way above my technical skills once I foolishly tried to upgrade the forum software to solve these problems. After several attempts to fix things, I had to call in the cavalry - Dave and Mr. Creosote - whom I can't thank enough for getting us back on track again. Thank you so much, guys!
One task that remains is figuring out the look of the forum. Unfortunately our old style doesn't work with the updated forum, so I'll have to figure out how to fix it. Might not happen right away.
Anyway, thanks for being patient - happy gaming!
Contributors: ahope1
UPDATE 12.09.2018: We're experiencing some major site issues. The forum should be back online now. A login bug remains, so you can't log i to your account. I'll keep you posted. Apologies for the inconvenice.
Our old hosting company was taken over by another, so CASA switched servers on Monday. I thought I had fixed everything, but as it turned out, our forum software didn't gel with the new server. A huge thank you to Dave for swooping in and saving us. Much appreciated!
Contributors: DannieGeeko, Alex, Dorothy, Gunness, Strident, ChickenMan, jgerrie, Highretrogamelord, iamaran
Ok, most importantly I would like to announce that, after 19 years, we finally have a formalized privacy policy. The policy can also be found in the Site menu.
I wanted to add one when GDPR was all the rage, as it was obviously a good idea to have one, but I didn't want yet another announcement getting lost among the avalanche of privacy update emails.
Please go ahead and read it - but also rest assured that nothing has changed. CASA is 100% ad free, we don't sell user information, and the hosting is paid out of my own pocket. For that very same reason, I can't afford to hire a lawyer to QC our policy. I've looked around at what other sites have been doing and asked for advice and translation QA from a number of kind people. The aim has been to write something that was understandable even outside legal circles - in other words, it isn't intended to be the be all and end all of privacy policies. If you find anything that looks confusing or questionable, please let me know.
Also thanks to ChickenMan for supplying us with lots of updated TRS-80 games, and for Iamaran for going through old type-in books, ever scouring for new additions to our database.
Contributors: Sylvester, Garry, iamaran, Gunness, Alex, Richard Bos, Dorothy, ahope1, redhighlander, adventuron, wellv, Highretrogamelord, ChickenMan, Strident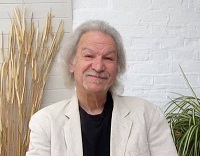 I hope that everybody has made it safely through the World Cup - and congratulations to our French friends for the thrilling finals!
Around these parts it's been unusually hot for weeks on end, so perhaps some light reading might be preferable to straining your noodle over puzzles. Shaun McClure, bonafide Spectrum artist and author of two books on Spectrum gaming, is working on a new book on Speccy text adventures. And he's been a really nice bloke and allowed us to reproduce some of the interviews for said book. So here for your reading please are interviews with Charles Cecil, Scott Adams and Mel Croucher. The latter might not have a huge roster of adventure games, but he's had a fascinating career all the same. Thanks to Shaun for allowing us to use his interviews. Let's see if there might be more happening on that front.
Contributors: Sylvester, iamaran, Strident, Gunness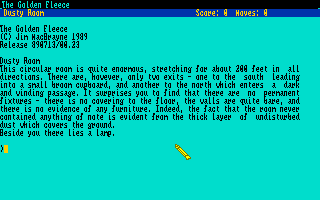 A warm welcome to Strident/Gareth Pitchford who joined the editorial team recently. He's very well versed in all things Amstrad and also has a humongous knowledge of the homegrown scene; we mentioned his book,
Twilight Inventory
, a while ago.
Apart from updating a huge number of games already, he also made a mini-interview with
Jim MacBrayne
, who wrote a number of ambitious adventure games for the Amiga.
Contributors: Alastair, GusBrasil, Gunness, Strident, dakidski, stevenjameshodgson, Alex, thomasboevith
This time around I'm pleased to give you an
interview with Mike McKeown
, co-author of Tower of Despair and its sequel, The Key of Hope, two fantasy games from Games Workshop. I had been on the lookout for the latter game for years, so I was pleased to finally locate someone who could clear up the fate of said game. As it happened Mike turned out to be a pleasant fellow with a lot of interesting tales to tell, so I hope you'll enjoy the interview.
I'd also like to mention the unofficial (but original author endorsed)
sequel
to The Big Sleaze, Mark Hardisty's follow-up to Fergus McNeill's 1987 crime thriller. Speaking of Mr. McNeill. I was in touch with him recently and he was kind enough to help me update the info on several of his more elusive titles, such as
The Malinsay Massacre
and
Goodnight Cruel World
. It's really nice to be able to close some of these cases.
Contributors: stevenjameshodgson, jgerrie, fuzzel, impomatic, Alex, Dorothy, terri, Gunness, devwebcl, iamaran, Strident
While I'm working on a new interview, with more to follow, here's the latest round-up. Oh, and a look at the lost Speccy game
Crimble
- if only because I just updated it and it looked positively odd!
Contributors:
iamaran
,
impomatic
,
Dorothy
,
terri
,
fuzzel
,
rockersuke
,
Alastair
,
farique
,
Alex
,
Garry
,
Richard Bos
,
zenobifan
,
Vaxalon
,
Amby
,
QN
,
sky-non
,
Gunness
,
ahope1
On the surface this might be one of our smaller updates, but behind the scenes there's been
a lot
going on. Some of you might have come across images that looked distorted. I thought only a few were affected, but as it turned out, there were hundreds of'em that needed updating. While we were at it, we also fixed a few hundred file names and replaced some of the less stellar images. It's an ongoing process, but we're slowly improving. A huge thanks to Alastair for assisting.
Unsurprisingly the database isn't growing as fast any longer when it comes to "new" games, but people are hard at work with updating the descriptions and credits. A particular nod to Sudders in that respect. Personally I've been plowing through old magazines to find more data on various lost games. I doubt we'll ever get to a 100% correct or complete database, but it's certainly a fascinating goal to work towards.
Contributors: auraes, Garry, leenew, Dorothy, Geoff, fuzzel, iamaran, terri, FredrikR, impomatic, Alex, Sylvester, Alastair, Porkbelly, Gunness, Richard Bos, DannieGeeko, Vicko Vitasovic, Juan, dave, Sudders, Strident
For any number of reasons, the final update of 2017 instead became the first update of 2018. But I would be remiss if I didn't thank all of you users and my co-editors for keeping us running. There have been a lot of material added throughout the year, and it wouldn't have happened without so many people lending a hand. So happy New Year, one and all!
In the great world of the Internet, various things are cooking as well. I've always been a fan of Jim Henson's 1982 fantasy film The Dark Crystal, which led to a text adventure by Sierra. Now the game has been made available to play in a browser. Neat.
Gareth Pitchford, who is an adventure author in his own right, has written Twilight Inventory, a book on the "forgotten text adventure games from the 1990s". Gareth reviews a mouthwatering number of homegrown titles from the likes of Zenobi, The Guild and Tartan, and there's plenty to dig into. Of course you're welcome to think "Forgotten! Bah! Not at all", but please keep in mind that the world as such don't necessarily share our educated view on classic text games! The book is available in print form or, for the time being, a free pdf version - however, you're encouraged to donate a bit of money and I think you'll find it money well spent.
Finally, a nod to Stuart Williams' new blog, Eight Bit Adventurer which started recently but sounds very promising indeed.
All in all, it seems like the text adventure community is thriving. Let's make 2018 a good year for the genre.
Contributors: Alex, impomatic, Gunness, Alastair, Dorothy, iamaran